A Complete Guide to Spacebar Dimensions
The spacebar is an essential component of any keyboard, serving as the primary tool for creating spaces between words while typing. As the design and layout of keyboards have evolved over time, the spacebar dimensions have varied significantly. In this guide, we will explore different spacebar dimensions, including their standard sizes, compatibility, and keycap profiles.
Standard Spacebar Sizes
Spacebar dimensions are usually measured in units (U), where one unit is approximately 18mm (0.71 inches). The most common spacebar sizes are: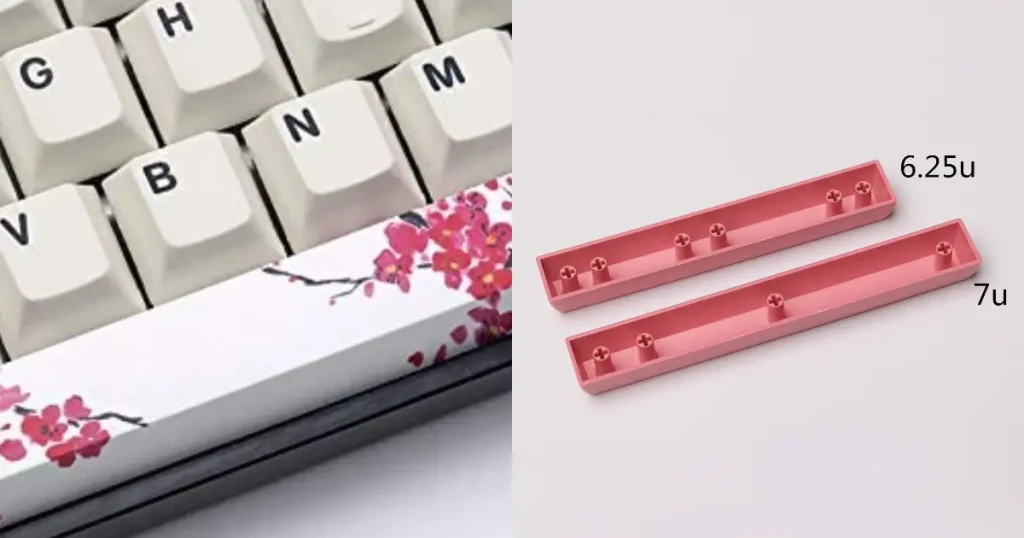 6.25U:
The most widely used spacebar size on standard ANSI (American National Standards Institute) and ISO (International Organization for Standardization) keyboards. It measures roughly 113mm (4.45 inches) in length.
7U:
A slightly larger spacebar size, typically found on custom mechanical keyboards and some ergonomic or split keyboards. It measures about 126mm (4.96 inches) in length.
6U:
Less common than the previous two sizes, 6U spacebars can be found on certain compact or custom keyboard layouts. They measure approximately 108mm (4.25 inches) in length.
Compatibility with Keyboards
Before purchasing a new spacebar, ensure it is compatible with your keyboard's layout and stabilizers. The three main stabilizer types are:
Cherry-style stabilizers: The most common type of stabilizer, found on both ANSI and ISO keyboards.
Costar stabilizers: Less common and primarily found on older or custom mechanical keyboards. They require specific keycaps with Costar-compatible stems.
Optical stabilizers: Found on some newer keyboards, they use a light-based mechanism instead of a physical connection. Be sure to verify the compatibility of the keycap with these stabilizers.
Keycap Profiles
Keycap profiles refer to the shape and contour of the keycaps. Different keycap profiles will affect the overall typing experience and aesthetics of the keyboard. Common keycap profiles include:
OEM: The most common profile, typically found on prebuilt keyboards.
Cherry: Similar to OEM but with a lower height and slightly more curved keycap surface.
SA: High-profile, spherical keycaps that provide a retro look and feel.
DSA: Uniform, low-profile keycaps with a spherical surface.
XDA: Similar to DSA but with a slightly larger surface area.
When choosing a spacebar, ensure it matches the profile of the rest of your keycaps for a consistent typing experience and appearance.
Material and Design
Spacebars can be made from various materials, including:
ABS (Acrylonitrile Butadiene Styrene): A lightweight and durable plastic material, commonly used in keycaps.
PBT (Polybutylene Terephthalate): A more robust and resilient plastic that resists shine and wear over time.
Resin: Used for artisan keycaps, which are often handcrafted and feature intricate designs.
Spacebars can also be customized with different designs, colors, and patterns to match your keyboard's aesthetic. Also check our detail guide A Complete Guide to Keycap Profile and Material 2023
Top Spacebar Brands and Their Dimensions: A Comparison
Several well-known brands produce high-quality spacebars and keycaps in various dimensions and materials. In this section, we will explore some of the top spacebar brands and analyze their offerings to determine the best among them.
Signature Plastics
Signature Plastics is a prominent keycap manufacturer known for their custom and high-quality keycaps. They produce keycaps in various profiles, including SA, DSA, and DCS. Their spacebars are typically available in 6.25U and 7U sizes. Signature Plastics is particularly famous for their SA keycaps, which offer a unique, high-profile, and spherical typing experience.
GMK
GMK (originally "Gesellschaft für Musik und Kunststoff") is a renowned German keycap manufacturer that specializes in producing high-quality, thick ABS keycaps. They mainly offer Cherry-profile keycaps, with spacebars typically available in 6.25U and 7U sizes. GMK is famous for their colorways and collaborations with keyboard enthusiasts, resulting in unique and visually appealing keycap sets. The picture below shows ABS Double Shot Cherry Profile GMK Keycaps, 134 Keys PBT GMK EVA Keycaps Cherry Profile and PBT Double Shot 135 Keys Shoko GMK OEM Profile
Varmilo
Varmilo is a Chinese company that produces a variety of mechanical keyboards and PBT keycaps. Their keycaps usually have an OEM profile, and their spacebars are generally available in 6.25U size. Varmilo is known for their dye-sublimated legends, which are long-lasting and provide a clean, minimalist appearance.
Tai-Hao
Tai-Hao is a Taiwan-based keycap manufacturer that offers a wide range of keycaps in both ABS and PBT materials. They primarily produce OEM and Cubic profile keycaps, with spacebars typically available in 6.25U size. Tai-Hao is popular for their budget-friendly keycap sets and various color options, allowing users to customize their keyboards without breaking the bank.
EnjoyPBT
EnjoyPBT is another keycap manufacturer known for their high-quality PBT keycaps, featuring Cherry and OEM profiles. Their spacebars usually come in 6.25U and 7U sizes. EnjoyPBT is recognized for their dye-sublimated and reverse dye-sublimated legends, offering durability and unique aesthetics.
Keyreative
Keyreative is a relatively new player in the keycap market, but they have gained a strong following with their PBT keycaps in various profiles, such as KAM and KAT. Their spacebars come in multiple sizes, including 6.25U and 7U. Keyreative is known for their innovative keycap designs and collaborations with keyboard designers.
Which One is the Best?
Determining the best spacebar brand among these options ultimately depends on your personal preferences for keycap material, profile, and aesthetics. Each brand has its unique strengths and offerings:
For high-profile, spherical keycaps, Signature Plastics is an excellent choice.
If you prefer high-quality ABS keycaps in Cherry profile, GMK is your go-to brand.
For PBT keycaps in OEM profile with dye-sublimated legends, Varmilo is a great option.
For budget-friendly ABS and PBT keycaps in various colors, consider Tai-Hao.
If you're looking for high-quality PBT keycaps in Cherry profile, EnjoyPBT is a solid choice.
For innovative designs and newer profiles like KAM and KAT, Keyreative is worth checking out.
Ultimately, the best brand for you will depend on your specific needs and preferences in terms of keycap material, profile, and design.
FAQs
Conclusion
Understanding spacebar dimensions is crucial for finding the perfect fit for your keyboard. Always consider the size, compatibility, keycap profile, and material when selecting a new spacebar. With this guide, you can confidently choose a spacebar that enhances your typing experience and complements your keyboard's design.